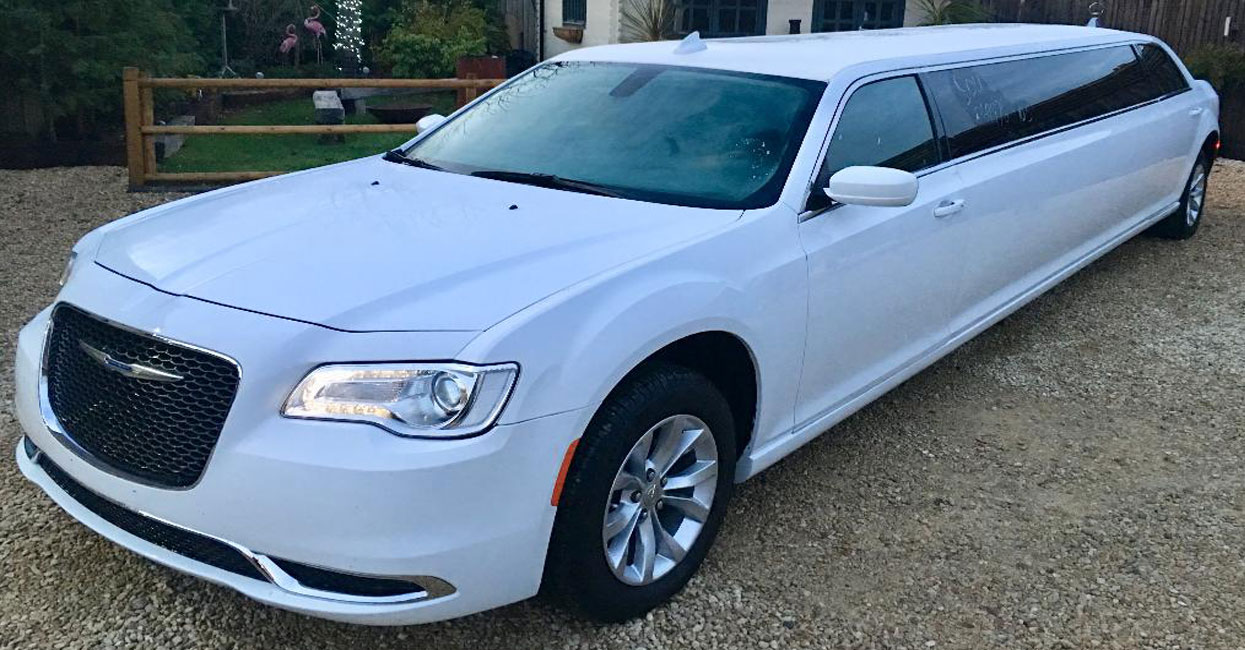 Stretch limo hire in Oxford Oxfordshire
Welcome to 1st Class Limousine hire Oxford Oxfordshire where we specialise in rentals of stretched hummers, partybus, luxury limousines & vintage wedding car hire for all occasions including: school proms, sporting events, airport transfers, hen / stag parties, excursions, weddings, weekend trips, kids birthday parties, anniversaries and all other limo hire events.
After a long day wandering around Oxford why not hire our brand new 8 seat White Chrysler limousine to find somewhere to sit down and enjoy a delicious meal? George street holds many of Oxford's chain restaurants such as Jamie's Italian, ASK, Gourmet Burger Kitchen and our recently renovated, Cleaver. You could also ask to take our limousine to Jericho, just outside the city centre where Loch Fyne and Branca, our very own Italian restaurant winning the 2014 certificate of excellence from TripAdvisor, are situated. You might in fact like to visit Oxford's first seafood restaurant, Fishers, located on St Clements or take a look around the Oxford Castle Quarter which holds various restaurants and bars.
However, if you are after a sophisticated evening of exceptional dining and fine wine then we would recommend booking a table at Quod on the High street. There are various places to go in Oxford of a night time, whether it be a shisha bar, a cocktail bar or a vodka bar. Why not hire one of our stretch Hummer limousines or our 16 seat Party Bus to make an entrance to one of the following places! The Mad Hatter on Iffley road is an eccentric venue based on the classic Alice in Wonderland adventure, known for their drinks served in teacups and jam jars it is a popular place for fun! Another popular venue is Angels in Jericho, a cocktail bar that likes to be creative with their drinks, why not try something from the 'Angel's lab' part of the menu.
If this doesn't tickle your fancy then head around the corner to Oxford's leading cocktail bar, The Duke of Cambridge. As you go back towards the city centre in our limo, we have Maxwell's and The House where you can enjoy a sophisticated toast to your visit. Thirst bar on Park End street is another late night cocktail bar which also has a dance floor and a private, heated shisha garden out the back. Oxford also has a vodka bar on Park End street under the name of Anuba, with a trendy interior and access to one of Oxford's biggest night clubs. After having a few drinks in one of our bars or pubs, we can get one of our limousines to escort you onto the next venue. A venue popular with the locals is Lava Ignite on Park End street, which regularly has guest DJ's playing, with an Urban room, Dance room and Pop room playing the latest in the charts! Or why not book a VIP table in the famous Bridge club on Hythe Bridge street to make the night extra special.
If you're looking for an inexpensive, enjoyable night on the town then Plush, Oxford's main gay venue, is the place to go. And, last but not least, make sure you take a look at the o2 academy Oxford to see what gigs and club nights are approaching! So, after a fun filled night in Oxford, make sure you book a return with us in one of our stretch limousines or our Party bus and we will ensure you arrive back to your accommodation safe and sound.
Events in Oxford Oxfordshire